On 22nd of March 2015 my JCI Plovdiv team and I again organized the free seminar "First Steps in Business", which took place at the Aula of the Technical University – branch Plovdiv. This time our choice of speakers was even more ambitious than before, and the event itself brought together more than 150 students and young entrepreneurs, who wanted to meet people coming from the real business world and hear about their experience and priceless advice.
Miglena Kakanasheva: "When there are 60 people working for you, you can't allow yourself to be weak, to fall apart, because you are responsible for these people and their families."
Young, beautiful, intelligent, ambitious and successful, Miglena Kakanasheva is an owner and founder of the fashion brand "MEGZ". According to her, the secret of success lies in having a clear conception about the company right from the beginning and constantly being interested and reading about the new trends in the business world. The successful management of such a big team she achieves through clear rules and orderly organization – all rules, tasks as well as the way they should be done are written by her. Treating people fairly also matters. As she says, "Reproach the team, but praise the individual."
Even though she is a perfectionist, who likes doing everything by herself, she found out that, at a certain moment, task delegating is of paramount importance, because the leader has to have time to think about the company's growth instead of everyday problems. However, sometimes, the leader's opinion does not correspond with the opinion of big clients – when you work with someone who's bigger than you, you have to play by their rules.
Clients, to her, are the most important indicator of a successful business. That's why she does everything possible to leave a good impression even in the most dissatisfied clients. And, when it comes to the business and the role of the family in it, she shares that running a family business is not easy, and, in order for it to be successful, the leader should be only one and the rest of the family should follow him.
Stefan Stavrev: "It's better to build a friendship based on business, instead of a business based on friendship."
A young entrepreneur and an owner of TRI Soft, Stefan Stavrev has many years of experience in the designing and developing of intelligent systems and games.
To Stefan the starting of a new business should not be based on personal relationships. According to him, money can be earned in a lot of ways (many of which – legal), the opportunities for development are numerous, but the question is what is it that motivates you, the thing that brings you pleasure. In order for your business to be successful, you have to have a well formed plan and to keep the original idea that motivated you to start in the first place. Not quitting is important, because, "The successful person is not the one with the best education, it's the one who doesn't quit."
In his business he lays the odds on long-term relationships in the firm, with clients and business partners. To him, the client doesn't have to know. The client has to pay – that's why it is important to present all the information on an easily understandable level to the client. In his sphere, however, the market is still too conservative and new ideas are not welcome despite their obvious advantages.
Justine Toms: "It's one thing being on salary and another – paying salaries."
A mother, a lecturer, an author and an absolute professional – Justine Toms is a firm example of a really successful woman in Bulgaria.
Her entrepreneur path begins during the Videnov winter, when her monthly salary as a university assistant is only $4.00. She started her first business with three computers and a printer in a basement in Sofia in 1996-1997. According to her, business owners are lonely people and that's why the family support is very important – both in your personal and in your professional life.
As a woman, she puts emotions in all her undertakings, but she agrees that part of the game of business making is being ready, at a certain moment, to sell your business, because the real evaluation of your business is someone wishing to buy it. And, even though not all of your realized projects will be successful, you shouldn't quit, because failure is actually an important part of the entrepreneur's path. In order for a good business idea to be born, according to Justine Toms, it takes focus and time, and experimenting is what differentiates the successful people. The formula of success for her includes dreams, a lot of work, teamwork and thinking outside the box.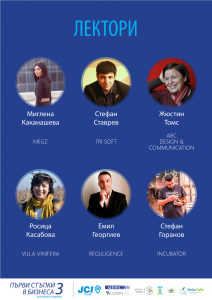 Rositsa Kasabova: "In every business, people are the most important – they are your support and your way towards success."
A fifth generation winemaker, Rositsa Kasabova is an owner of winery "Villa Vinifera", where she breathes new life into the spirit of tradition that goes together with wine and takes the success of the winery on a world level.
Stepping on the achievements of her ancestors, Rositsa Kasabova builds upon them and creates her product with love and a great attitude towards everybody – clients, workers, and suppliers. Wine, to her, is a philosophy, it is connected with traditions and that's why she marks the important stages of wine making (Trifon Zarezan and grape-gathering) with a lot of emotions and in the spirit of the Bulgarian traditions.
In her world what's important is not what you earn, it's what you put in, and whether it brings you pleasure, because: "Everything you do, if you do it with love, you will enjoy doing it." According to her we are inclined to remember the hard times, but they are innate to everybody, while the achievements are personal, unique and we should take pride in them. Purposeful and full of good will and hope, she doesn't build her business upon hatred and success to her does not come at any price. This is proven by the fact that talking against the competition is forbidden in her workplace.
Emil Georgiev: "In order to be successful, you have to direct your efforts to achieve distinctiveness through creativity."
A lawyer and an agent of industrial property, Emil Georgiev is an owner of the boutique lawyer office Reguligence, specializing in cooperation with companies in the field of information technologies, electronic business, media, marketing, and advertising.
Emil Georgiev explains the world connectivity and the technological advance, are two factors, thanks to which we all create content on a daily basis. Each of our statuses in the social media can be seen as an intellectual property – a work of art, and, as such, it is subject to authorship rights.
Creativity, to him, is the key to success – in order to be successful, you have to direct your efforts to achieve distinctiveness through creativity, to see yourself as a brand that needs to be developed and win with an individual approach and distinctiveness. His advice to young entrepreneurs is to follow the motto "One step at a time".
Stefan Goranov: "The wheel is always spinning, so you shouldn't close any doors behind your back."
A vivid and controversial person, Stefan Goranov has had the entrepreneurship spirit since he was a child. With over 20 years of experience in the business making, he is a mentor in the first in its form creative complex in Bulgaria – INCUBATOR.
Stefan Goranov has had more than one opportunity to develop abroad, but he decided to stay in Bulgaria. Businesswise, he is lead by the feeling of justice – giving to those who deserve it is an important element of his creed. To him business and family are not self-expelling, but, when it comes to partnership, his experience is bitter and he prefers running his business by himself.
Taking care of the clients is of paramount importance to him – he even helps his competition, because he doesn't want any clients to be unhappy, even though they are not his. According to him you should never close any doors behind your back, because the wheel keeps spinning and you never know when you will meet a person from your past again. One of the major pillars of the successfully working business, he says, are people: "You can have all the money in the world, the best machines, but, if you don't find the right people to work with, you have nothing."
"First Steps in Business 3" was organized with the support of AIESEC Plovdiv, "Mladejki glas" (The voice of youth) association – Plovdiv, Start-It-Smart Plovdiv, 9 Academy, Technical University – Plovdiv branch, ABLE, Entrepreneurship center – Plovdiv and MediaCafe. An official sponsor of the event was the original branded perfumery distributor – Venera Cosmetics, and the catering was covered by Kadife Restaurant – Plovdiv.
Find out more about the first two editions of "First Steps in Business".
If you want to be among the first to see our latest news and updates, find us on Facebook.
Phorographer: Dimitar Dimitrov