Mark Zuckerberg Biography
Mark Zuckerberg is an American entrepreneur and software engineer. His name has been spelled in various ways on the internet. This is due to factors such as misspellings, lack of accurate information, or misunderstanding the rules for spelling the name. He is the founder and CEO of Facebook, the world's largest social network. In 2004, he created Facebook as a platform for students to communicate and share information. Over time, Facebook became extremely popular and attracted millions of users worldwide. Zuckerberg expanded the functionality of the network to include Instagram and WhatsApp. Despite its successes, Facebook faced controversy over data privacy and its influence on public discussion and politics. Mark Zuckerberg remains an important figure in the world of technology and business, changing the way people connect and communicate.
Childhood
Mark Zuckerberg was born on May 14, 1984, in White Plains, New York. Since he was a child, he has been very curious about computers. After he turned 10, he got his first computer, which played an important role in the development of his passion for programming. In school, he showed exceptional knowledge of computers and programming, developing his skills and creating several software programs. After completing his secondary education, Mark started studying at Harvard University where he was involved in various projects including the creation of the prototype of the Facemash social network. Inspired by his interests and skills, he created one of the largest social networks in the world, Facebook.
Facebook
In 2003, Mark Zuckerberg was a student at Harvard University and started working on the Facemash project. This is an experimental social network where users can compare and rate photos of classmates according to their attractiveness. Although Facemash hasn't been around long, it shows Mark Zuckerberg as a programmer and foreshadows his larger vision for the creation of Facebook. In 2005, Facebook expanded access to students from other universities in the United States, which contributed to the growth and popularity of the platform. In 2006, Facebook opened its registration to all users with a valid email address, helping it attract a diverse audience and grow rapidly.
In 2008, Facebook achieved great success with the number of active users exceeding 100 million and this established it as the leading social network in the world. In 2012, Facebook held its initial public offering on the NASDAQ exchange and floated shares of the company. This gave the public and investors the opportunity to purchase shares of the company. In 2014, Facebook acquired the mobile messaging app WhatsApp. The deal was worth about $19 billion and strengthened the company's position in the mobile sector. In 2018, Facebook became the subject of a scandal when it was revealed that the personal data of millions of users had been unauthorizedly used by Cambridge Analytica for political purposes. This raises serious questions about data protection and trust in Facebook as a platform.
In 2020, Facebook announced the creation of 'Facebook Shops', a new functionality and platform that allows businesses to sell goods and services directly through Facebook and Instagram. This represents a significant expansion of Facebook's ecosystem as a commerce platform. Facebook Shops allows companies to create customized online stores on their Facebook and Instagram pages. This enables businesses to display their products, add descriptions and prices, and make sales directly through social networks. The creation of Facebook Shops aims to make it easier for businesses to engage in e-commerce and provide consumers with greater convenience and easy access to the products they are looking for. This opens up new opportunities for growth and commercialization within the social network Facebook and Instagram.
These are some of the key moments in the history of Facebook, which continues to evolve and innovate, offering new features and services that are changing the way people communicate and share information these days.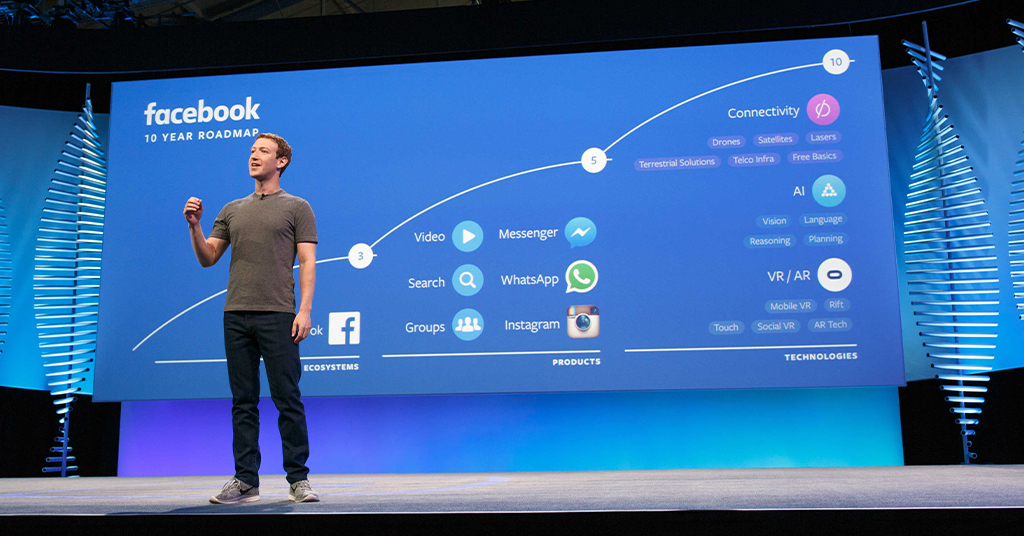 Metaverse
In recent years, Mark Zuckerberg has turned his attention to the development of the Metaverse and shares his strong belief that it is the next important phase in the Internet and technology. In July 2021, Zuckerberg announced that Facebook would change its name to Meta and focus on developing the Metaverse. He explained that the goal is to create a connected virtual space that brings together different platforms and technologies. Mark Zuckerberg's plan for the Metaverse includes developing new technologies, such as virtual reality, augmented reality, and others, to allow users to enter virtual worlds and interact with content and other people in a way that resembles the real world.
Zuckerberg sees the Metaverse as a place where people can work, play, learn, and communicate in a more intense and free way than what the Internet currently offers. He explains that in the Metaverse we will be able to meet friends, visit virtual stores, complete work tasks, and participate in different types of events. Although Mark Zuckerberg's plan for the Metaverse is ambitious, we still need significant technological and infrastructural changes, as well as the creation of standards and regulations, before it becomes widely available and accepted by large masses of people. Regardless of the challenges, Mark Zuckerberg's plan for the Metaverse represents a vision for the future of the internet and digital technology that could change the way we live, work and interact in the digital age.
Awards and accomplishments
Here are some of the top awards and honors Mark Zuckerberg has received:
He was recognized as "Entrepreneur of the Year" by Bloomberg L.P. in 2010. For his outstanding role in the development and success of Facebook, Zuckerberg was honored with this prestigious award.
In 2010, Mark Zuckerberg was named "Person of the Year" by Time magazine. This recognition was given to him for his significant role in the field of social media and the wave that Facebook has caused in the way people communicate and share information.
In 2011, Zuckerberg was named "Tech Entrepreneur of the Year" by the Crunchies Awards. These awards are part of an annual awards ceremony hosted by TechCrunch and were awarded to Zuckerberg for his contributions to the field of technology entrepreneurship and social media.
In 2016, Zuckerberg was awarded the Presidential Medal of Freedom by US President Barack Obama. This high distinction was awarded to Mark Zuckerberg for his contributions to the development of social media and his significant contributions to society.
These are just some of the awards and honors that Mark Zuckerberg has received over the years. He is known not only as the founder of Facebook but also as a successful entrepreneur and visionary in the field of technology and social media.
Charity
Mark Zuckerberg can be considered a philanthropist. In 2010, he and his wife Priscilla Chan founded the charity Chan Zuckerberg Initiative (CZI). The goal of this initiative is to make the world more open, connected, and progressive by investing in education, science, healthcare, and other social initiatives. Through "CZI", Zuckerberg and Chan announce multiple donations and commitments. They focus on financial investments in educational projects and research, especially in the field of biomedicine. In addition, "CZI" aims to increase access to education and develop technologies that improve the educational process. In addition to "CZI," Zuckerberg and Chan donate substantial sums to various charities and projects. In 2014, they announced a $25 million donation to fight the Ebola epidemic. Zuckerberg also pledged to donate 99% of his shares on Facebook (now Meta) during his lifetime through the "Giving Pledge" initiative. It is important to stress that Zuckerberg's philanthropic work and his donations are not without controversy and have been criticized in some instances. However, in line with the common understanding of philanthropy, it can be said that Zuckerberg expressed an interest and commitment to helping social problems and improving the world through his charitable work.
Personal Life
Mark Zuckerberg is known as someone who prefers to keep his private life out of the public eye. He and his wife, Priscilla Chan, are one of the most famous and successful couples in the tech industry. They met while they were studying at university and have been inseparable ever since. In 2012, they got married and started building a future together. Priscilla Chan, apart from being the wife of Mark Zuckerberg, is also a famous doctor. She had a significant role in Mark's life back in the early days of Facebook. Priscilla has expressed her support and faith in Mark during some legal disputes that he has experienced. Her support and strength have been extremely important to Mark during these difficult times. Mark and Priscilla have two daughters. Their first daughter, Maxima, was born in 2015. Their second daughter, August, was born in 2017. Mark Zuckerberg often shares photos and moments from his family life on social media, showing his love and pride for his family. Mark Zuckerberg and Priscilla Chan are known for their commitment to charity. In 2010, they announced that their intention was to donate a significant portion of their wealth to "The Giving Pledge" initiative. This initiative calls for billionaires to devote at least half of their wealth to charitable causes during their lifetime.
In conclusion, Mark Zuckerberg's life story is undeniably fascinating. From Harvard dropout to one of the world's richest men, Zuckerberg's path has been marked by innovation, controversy, and success. He revolutionized the way people connect and communicate with each other, and created one of the most powerful companies in the world. However, his legacy is not without flaws, as Facebook has been criticized for its handling of user data and its impact on society. However, there is no denying the impact that Zuckerberg and Facebook have had on the world, and his story serves as a reminder of the power of innovation and determination.