How to double your Instagram followers only for a month
Dubbed the "King of social engagement" by Forrester Research, Instagram offers an engagement rate of 2.3%, which far exceeds that of Facebook (0,2%) and Twitter (0.02%).
Instagram has already become such an important part of the businesses' online strategies that attracting more followers should be the top priority for marketing strategists. The social network is bringing so many advantages to our business – from greater engagement rate to a larger possibility for a personal relationship with users and even a greater user base. It's only natural that it has become an integral part of development strategies and promotion for online (and offline) businesses. In addition, Instagram users are more positive that the Twitter ones, for example. This article will teach you a few tricks you can use to increase your follower base and afterwards your positive presence and reputation in Instagram. Which will lead to the positive development of your business in the digital space.
If you're not so familiar with the platform, let's learn a little more about it:
Instagram is a platform for sharing photos. It was launched in 2010, but apparently failed to attract enough attention on its own and in 2012 was acquired by Facebook for $1 billion. Well, if Facebook decided to pay a billion dollars for it, then definitely it had enough potential even then.
As of December 2016 Instagram has around 600 million active users a month.
Early on Instagram was just an ordinary application. Take a picture, put a filter on it (to make the picture or you on it look better), share it with your followers. That's it. Or rather, that was. Now Instagram has numerous new functionalities, offers various extras and add-ons.
For example, you can now edit and make your photos more "beautiful" with the help of a more sophisticated software and many new features.
We can also publish Instagram Stories. Stories appear at the top of the screen and are therefore more easily seen by our followers. They are up there for 24 hours, after which they are automatically deleted. We can also make them personal and send them only to a certain group of people.
As with Snapchat, you can edit your photos by drawing on them, adding text, filters and other special effects.
Instagram offers an opportunity to capture live videos. Live videos also appear at the top of our screen and can more easily reach our followers.
With the release of Instagram for Business (and if used properly), Instagram can be a better targeting tool, and a visual advertising channel for your brand. The higher level of engagement means that Instagram is an excellent channel for building brand awareness and good reputation, and for promotion of your business.
How to do that?
1. Profile
We'll start with the first thing users see – your profile.


This is the first thing you need to focus on. You need to create a profile that will keep the users interested. These things matter. People will look at your profile, they will see your photos, your description and website – your account is your digital ad that either wins people over or bores them and makes them leave. "Decorate" your description with emoticons, interesting facts about your brand/company or yourself, which would result in users seeing your advantages with a single click on your profile.
It is preferable to make your profile public. This way people will be able to check whether the content you provide is worth it, and if they decide it does, would turn into followers.
2. Publications
The main focus of Instagram are the photos. Therefore, our goal is to create and publish compelling and interesting images that engage the attention of the users. This is how:
2.1. Post original photos
Use your own photos. Nobody wants to see only re-posts. Now even ordinary smartphones have decent cameras, and beauty is all around us. You have no excuses.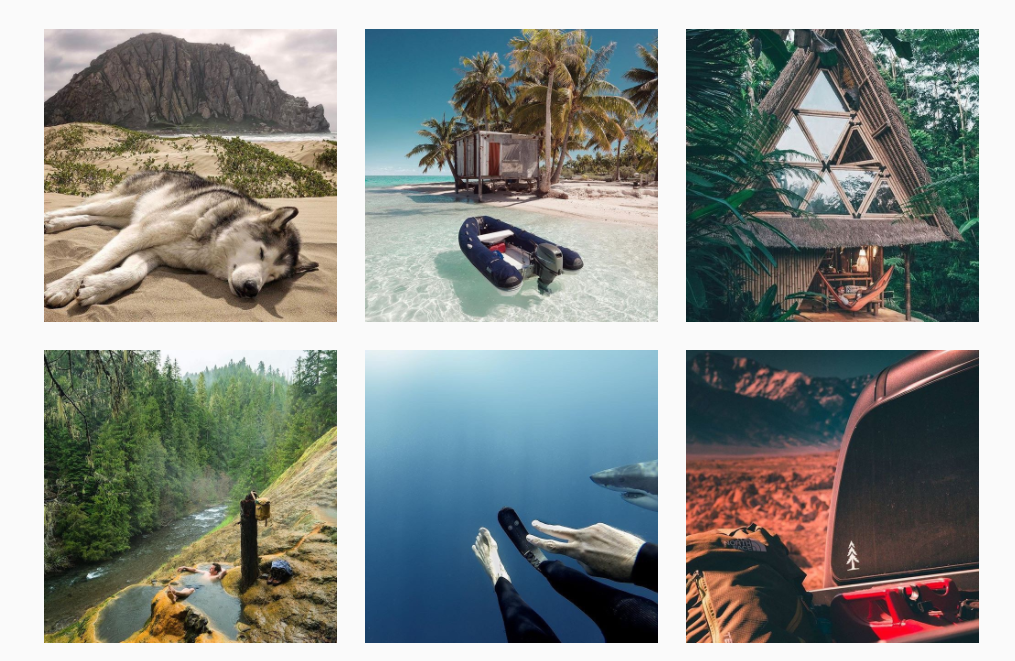 Source: Instagram.com/huckberry
2.2. Post relevant images
Always take into account your target group.
What kind of people do you want to attract?
How do you want to influence them?
What is the purpose of your posts?
What kind of people are your followers?
You must answer these questions first and then you will be able to publish adequate and relevant content.
2.3. Post often
Make a schedule and stick to it. With all this information flowing from everywhere, if you do not post regularly, people will quickly forget about you. However, what is the recommended amount?
1-2 posts (pictures or video) per day
Instagram at least one story a day
1 live video during a certain period of time (especially if you have an upcoming event)
The influencers, for example, publish very often. That way they keep their audience in the know about the things that are happening, that they (are going to) offer and what to expect. Make a schedule! That way you will make your work more pleasant and easy, and also (but as important), your followers will know exactly when to expect something new from you. Which is good, because this way they will be kept waiting and impatient. Another important thing is the time you choose to publish your posts. There are many softwares (ex. Buffer) that help you identify the perfect time to post according to your followers' activity. That way, for example, if your followers are more active around 10 AM, the software will know this and will help you make your posts more visible with this information. With its help, you can also know the proper amount of posts you must publish a day and the perfect time to post them.
2.4. Writing content
The longer and more enthralling is the text, the greater the number of people reached by it will be. With interesting and compelling text you will be able to attract (and keep) a larger number of followers. Never underestimate the importance of quality and engaging text. And even though Instagram is considered mainly as a platform for sharing photos, the text is always of paramount importance.
2.5. Hashtags
Hashtags are a powerful tool through which we can not only gain many new followers and likes but even make a profit. Hashtags give shape, a category to the content and contribute to its spread and reach to a larger group of people. In other words – you can publish only awesome and aesthetically pleasing posts and photos, but without the right hashtags they will not reach (almost) anyone. This is the truth. They form the core of the social platform and without their (correct) use, you will never attract new followers/customers. When you post, you can check out the current hashtags in this niche and use them. For this purpose you can use the automatic hashtag generator All Hashtag. This will attract the attention of those interested in this topic, which in turn would lead to more engagement, more audience and hence more followers and profits.
Since Instagram allows up to 30 hashtags and a certain space for description in your post, I advise you to divide your description from the hashtags you use. Thus, the description will not be occupied only by hashtags. (It is bad if this happens because they act as a tool to connect you with customers who would be interested in what you publish. But not as a tool to retain attention, once a user lands on your content.) If we are using a separate comment for hashtags, we can utilise all of the given space (Up to 2,200 characters, which is a lot actually!) for a compelling and engaging message and separately add hashtags that will bring users who would be interested in that content. Moreover, Instagram connects the used hashtags with the actual description.
2.6. Add location
When you add a location to your photo, and you reach more people. Why? Because your picture "lives" in this place. Whenever someone searches for photos taken within this area, they will see your picture. These pictures will also be shown to all the people close to our location. This is another way to be easily found by users and future followers.
2.7. Live video
You already know the importance of video (and video marketing) in 2017. But what contributes to its Instagram importance is the position of video posts and stories. They are located at the top of the screen, which means that your followers can see them without having to scroll and search through the newsfeed you. They will be able to reach your content quickly and easily whenever they want.
2.8. Instagram stories
Instagram Stories, along with the Live Video, contradict to Instagram's original idea – thoughtful, polished content that shows only the best moments in our lives. Stories emphasise on the casual, short, and influential content of those moments that are fully experienced without having to think about them or "touch them up". If you have an active Instagram audience, it's nice to use Stories as well. Their power is in the momentary impact they have on consumers as well as in that they are easily accessible and highly effective.
2.9. Emojis
Besides being cute and adding color of the publication, they have a psychological impact on the reader. When we see a long paragraph with text only, our eyes and mind are overloaded. With this informational excess (provided to us mainly from the Internet), it is much more difficult to concentrate, and our minds are often looking for a break. Dividing the message and adding colorful emojis, we give the brain a much-needed break and at the same time a way to engage more with the content.
2.10. What type of posts should you publish?
It is important to consider the nature of your work and the niche in which you operate. Taking your product/service, the interests of your target group of customers and consumers who have the same or similar interests into consideration, you will be able to not only attract, but also build a loyal and ever growing base of followers. For example, if you have a consulting firm related to personal and professional growth, quotes from inspirational people would be suitable for your page – they would motivate you and your followers to continue to fight and grow. However, if you have a veterinary clinic, quotes (or at least an excessive amount of them) would be inappropriate and would have a repulsive effect on your audience. In this case, you have to focus on what interests your perfect customers and what they look for (or want to learn) by visiting your profile.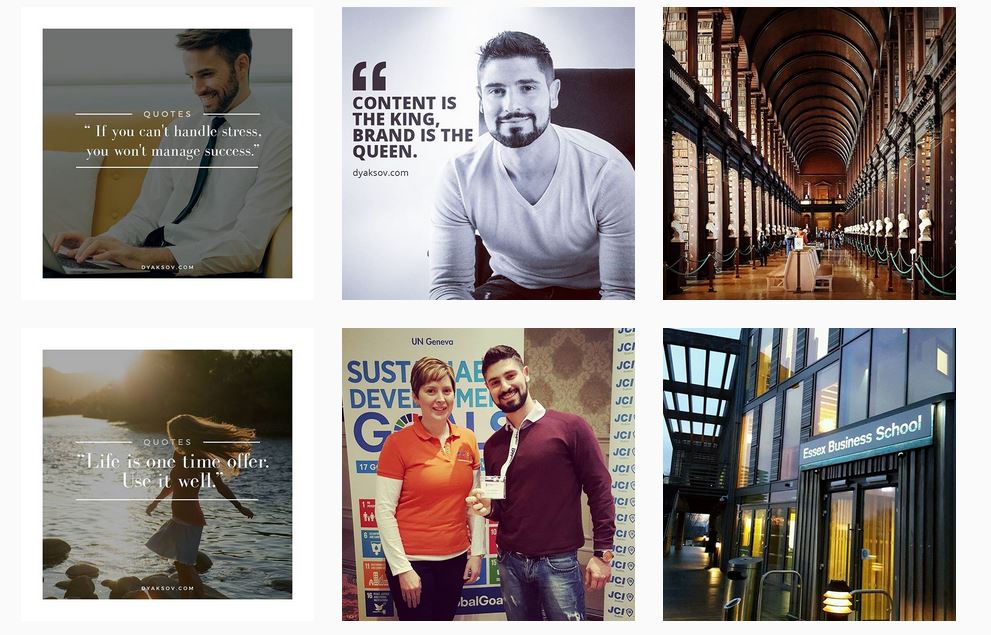 What to do when you don't have an appropriate original picture (or one perfect for a particular case)? You can use sites for free images/photos that are essentially an inexhaustible and evergrowing resource for images. For example: https://pixabay.com/ and https://www.pexels.com/. You can also find a designer in Fiverr, who would make a great design for your Instagram profile for only $5.
3. Strategies
An Instagram strategy is an extremely complex thing, but also an essential part of any digital marketing concept. Whether you decide you want to increase your audience and promote your product, or that you are aiming at increasing sales and conversions, Instagram is one of the tools that can help you tremendously to do so. We have already discussed most of its functionalities and learned how to use them best for our purposes, but I will also give you a few (small) tips for promoting your brand and taking advantage of everything that Instagram has to offer.
3.1. F4F and follow/unfollow
What does that mean?
F2F or follow for follow is a common method used by a lot Instagrammers to increase followers. It provokes extreme opinions – some people do not support it and believe that you can't build and maintain a quality audience that way. Other practice it daily and claim that it just gives them an easy opportunity to "dazzle" their new followers with quality content, which turns them into loyal followers.
Follow/unfollow is a way to show users that you exist, and once they spot you and try to learn more about you, you unfollow them. This way you engage with people who would find your content interesting, intriguing and useful. The right strategy here is to follow people who liked/followed your competitors and those who are interested in your niche hashtags. There are various softwares that can help with and automate this otherwise tedious task. A few weeks ago some of the most famous softwares in terms of IG bots and automation of this process – Instagress and Instaplus, were discontinued. If you, however, like to use software for automation, there are many other options. See: Crowdfire, Captivate and InstaFollow.
This has rather short term effect, but still – if you want to quickly increase the number of your followers, these strategies are extremely effective. If so, however, there are several important steps that you should consider:
Do not follow more than 50 people per hour. (You should limit to 30-40 people max.)
Do not follow more than 1,000 people a day. Never.
For new profiles – it is recommended that you don't follow more than 400-500 people a day.
Follow people interested in your niche. They are the ones that would like to know more about you or your product/service.
Unfollow up to 40-50 users an hour.
Otherwise, Instagram may remove your right to follow people for a certain period of time.
3.2. S4S (share for share)
S4S, or share for share, is a similar tactic, with the same purpose, but here we are talking about shares and shouts, not followers. Classic example for that is to tag someone in one of your posts, after he/she has tagged in one of theirs. The logic and motives behind it are the same – you can reach much more people with little effort on your part.
3.3. Niche hashtags
If you take the time to find relevant and popular hashtags in your niche, you will achieve an even greater success. They not only save time (and can be easily found), but facilitate the process of reaching consumers who are interested in your content.
3.4. Branded hashtags
It's the same with the branded hashtags. Once you have built a loyal audience and you've increased your brand popularity, the use of branded hashtag is an obvious next step. This way consumers will think of you when they see it, remember it, you (your brand) and your products/services. For example, the Coca-Cola hashtag #ShareACoke has become a popular example and has boosted their marketing campaign on social networks.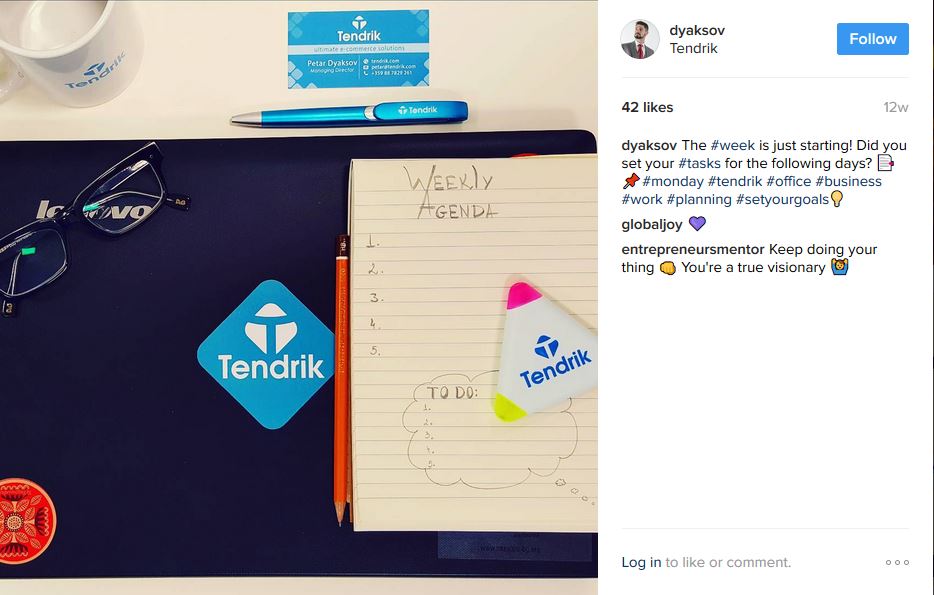 3.5. Engage
This is actually one of the most important elements for a successful outcome of the marketing strategy in any social network. To build a nice foundation of followers and loyal customers you need to, no, you must engage with them, their content and their attempts to make a connection with you. Share your opinion, engage, create links and connections between you and your followers. Thus, you demonstrate not only respect for the person opposite from you and his/her time, but you also show interest in human relations and those of the kind brand-customer. With more engagement on your part, you will not only have a greater amount of loyal customers, but will also gain better exposure (and in this way, more people will know you and your brand). As an added bonus – content with more comments is shown to more people. And as we know, the best advertisement is the personal recommendation.
3.6. Instagram competitions
This is a great way to promote your new products and increase your audience on Instagram and any other social networks. It is also an easy way to engage more people with your brand for minimal effort on your part. Before everything else, however, you must plan your objective and goals. Then you can define a theme and create a way to enter the competition. After you've done this you can go to the next step – finding the perfect hashtag. This is extremely important (especially when it comes to Instagram competitions), because this is the way to promote your game and to make people participate in it. Some things you should consider – the hashtag should be short, relevant, memorable, universal and rare. A great example of an engaging and effective hashtag is Mint.com – an online personal budgeting financial management company. In one of their contests, they use the hashtag #MyMintMoment.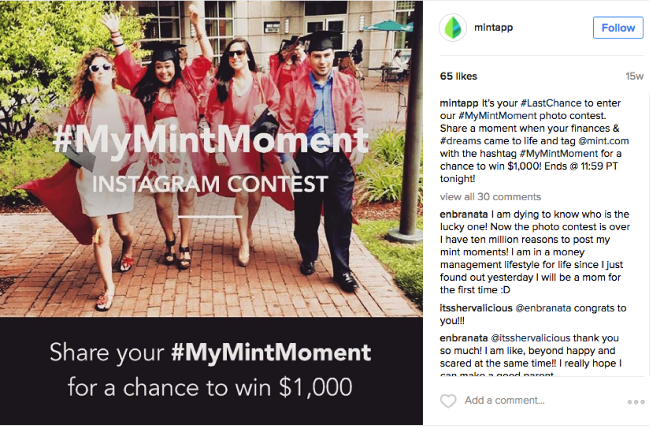 The contest was a success for a number of reasons and one of them is the hashtag – it is short, memorable and easy to understand. The goal of the competition was to get users to post about things they were saving for. This is not only great example of an effective hashtag and of great marketing. Having your users sharing all their dreams, desires and things they are saving for, the company has an insight in the motives and interests that fuel the usage of their service. All that's left is to award the winner and promote like crazy.
3.7. Collaboration with influencers
Influencers are people with an important opinion online. They have an impact on public opinion and can easily affect certain communities of people (often very large) for a decision. In collaboration with this type of user, you not only will be able to reach more (often a different type) audience, but will gain more respect in certain areas. Nowadays many modern companies engages in collaborations of this kind – there are numerous examples. Cosmetics companies send products to beauty bloggers, tech companies give a chance to IT bloggers to test a certain product and so on. Chanel, for example, uses branded hashtags and collaboration with certain influencers, in order to increase the impatience and the awareness of the users. For their new Chanel No. 5 L'Eau they invited influential Instagrammers to their production facilities and flower fields located in Grasse, France, for an inside look at how Chanel makes their iconic perfumes. As each influencer shares interesting images from the tour with their audience, they included two branded hashtags: #newchanel5 and #chanelgrasse.
Already convinced you of the importance of Instagram? That's right 🙂 This is the perfect time to take the matter into your own hands and act. Then you will be able to enjoy all the benefits it will bring you. Using these advices, you will most definitely (and at least) double your followers in a month.
I am also attaching a great PDF file – Instagram Guide for Beginners. I consider it highly useful and thorough. I really hope that with its help, and after following all the advices I've left you, you will be able to continue writing a successful Instagram story.
This is the end of our Instagram trip (for now). If you want more tips, backstage secrets or articles on this topic, contact me. 🙂
P.S. Don't forget to follow me on Instagram HERE!