What is Influence Marketing?
I suppose the influence marketing is already a familiar technique for you or at least you have heard about it. This trend in digital marketing marked its peak in the past year, but we are still expecting the real peak of the Influencers in 2018. However, if this is a new topic for you, here is what influence marketing is. It's a business and branding technique, in which a person in a particular circle or industry who has the power to form public opinion talks about you, your product or brand, recommending it. By this time, Influencers build a certain image for your brand to their followers. Between influence marketing and the recommendation of a certain celebrity, although sounding similar to a technique, have a significant difference – the Influencer builds the image of your brand directly by communicating with its followers, directly on social networks rather than through TV or radio ads.
Who are the Influencers?
It is important to note that Influencer is not the typical celebrities we know and see on small screens. The Influencer is a specialist in a field that shares his experience through various social networks and channels. In the majority of cases, these are professionals in a particular sphere who have a blog or a vlog. They enjoy wide public acceptance, have thousands of followers, and are highly active in the channel they are developing. In these cases, the Influencer may enter into direct communication with his/her followers through comments, video, or other contact method mentioned in the channel used. Unlike the recommendations of celebrities, their fans cannot communicate directly with or can ask a question about a product they advertise.
This is the place to note that, according to much of the sociological surveys for 2016 and early 2017, Influencers are becoming a bigger part of the world's most influential individuals. And here you can see which names entered the TOP 100 of influential people for the past year.
As I like to do, I can't just introduce you only a little useful and extremely positive for influence marketing statistics. According to data from the first six months of this year:
86% of Youtube cosmetics videos are videos of influencers, while only 14% of videos are advertisements for cosmetic brands. This is quite indicative of the pace and prolonged upward trend of this technique in digital marketing.
Additionally, 70% of young people form their opinion on certain topics on the basis of the Influencers they are following, and only 30% of teenagers trust the famous people.
Nearly 70% of users check online information about a product or service on an influencer before making a purchase decision.
In America, every $ 1 invested in influence marketing, the return is $ 6.5, which we can not but admit is a great investment.
After this extremely promising statistic, I can not help but recommend you to bet on influencers your own marketing strategy.
Why do I use this technique?
Influence marketing has been a global innovation about 10 years ago, but globally, it's a well-established paradigm, both from small businesses that are just making their first steps on the market and from the biggest brands each of us knows. With this digital gesture, the Influencer you previously contacted and agreed to work together affects your audience. This is extremely useful for a simple reason. The followers of your representative person have volunteered to receive notifications from him and are interested in his vlog or blog publications. When the audience voluntarily engages their attention and follows a person, it is much more confident about the information the Influencer shares. Hence, the relationship that follows is quite logical. If the influencer is satisfied with your product or service and shared this with his followers, they will believe him and a large percentage of them will follow his example. This will inevitably affect you and your business.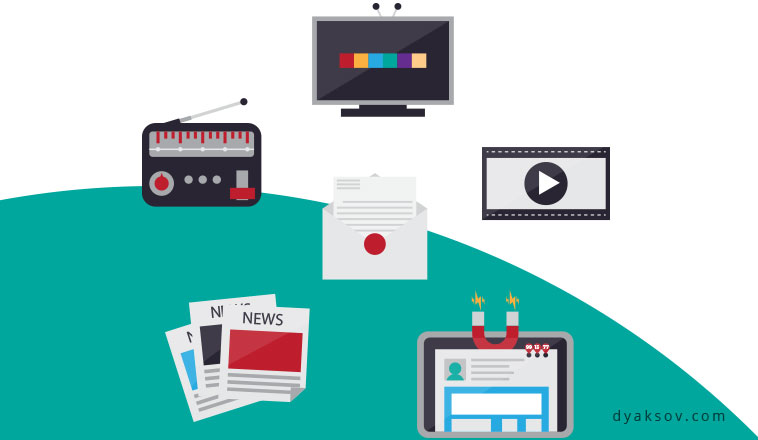 influence marketing dyaksov
If you want to apply this practice, but you're not sure how, I'll give you some secrets and strategies from the kitchen that I've personally tried.
When the time has come for you to choose an influencer with whom to work, choose a person who is in one way or another connected to the niche you are developing. For example, if you are a manufacturer or a tire dealer, look for a professional rally racer or instructor. If you are a lipstick distributor, look for a beauty blogger or advertiser, and if you have a place of accommodation that you want to promote in this way – discover one of the many travelers who describe their experiences through text or video.
It's good to think about the audience the influencer influences. Surely, the followers of young people who make fun videos are the most numerous. But are your children and adolescents your dream clients? Think well what your purpose is. Whether you want to reach a maximum audience or are willing to advertise your business in front of a smaller audience, but the audience is your dream client. I recommend this step because some businesses decide to work with the world's most popular influencers without getting the expected return. The reason is not that the Influencer has not made a good review of their product or service but because its audience is not suitable for what they offer.
Let's assume you've already chosen someone. What should we do now? You get in touch with him, of course. Every Influencer has contact details left, whether it's a social network, email, or other. I will reveal to you how I turn to the Infusers. If you can not create your original contact, here is a sample form that you can rework and use as a template:
Hello, … (the name of the Influencer)
I looked at your blog/vlog and liked it very much. An extremely good impression made me the article/video about … (ask and be sincere, write what on this channel you like most and why).
I am … (here is the place to Introduce yourself – who you are, what you are dealing with, which one is your company or brand). I contacted you because I really want a collaborate or work together. I am happy to offer you … (here you make your offer, which you will thank for the fact that the man X will be your Influencer).
I looking forward your reply!
Sincerely,
… (Your Name)
Here, you see. There is nothing complicated. Still, if you do not get the answer now, or never, do not give up.
About 50% of the bloggers and vloggers my team and I have been trying to get mail back have not answered. So prepare yourself a long list and do not give up!
I mentioned a little bit above that it is right to thank your Influencer. Yes, accepted as a sign of gratitude for good words, to return the gesture. If you provide a product that is low to medium price, you could make a gift to your advertiser or provide him with a voucher of a certain amount. If your products have higher prices, you can send a product for testing for a certain amount of time or a discount voucher if, for example, it is a technique. If you provide a service, you can offer free testing of the selected Influencer. The variants are many, and the best does not exist. You yourself will negotiate the conditions under which an Influencer would advertise your product or service.
The development of influence marketing in Bulgaria
By telling you about what you can offer to your Influencer, I can't help telling you how much the marketing has changed in recent years. I started to use this technique 5 years ago. Then in Bulgaria, although it was already heard about it, almost no one used it. At that time, there were not very strong influencers or specialized channels, and bloggers were just writing for pleasure. For bloggers in Bulgaria, very few people have heard. The level was not particularly professional, but there were people who did pretty well. Most of them developed their personal channels and sites for pleasure, not for supplementary dividends. That is why, when the influence marketing came to us, a large number of marketers neglected it and paid no attention to it initially.
In 2017, the development of the influence of marketing in Bulgaria is significant. More and more people are becoming influencers. Bloggers have turned into real experts, and many of their online portals look better than some of the real mediа. The vloggers are a common occurrence with thousands of followers, and the level of all of them has risen sharply. There are already a lot of professional Influencers who will easily and unobtrusively advertise your product or service without being aggressive and annoying. With the increase in their number, businesses in our country have increasingly begun to connect with the influencers and the niche has grown massively. This cannot have an impact on the value or price you will have to pay to repay your advertising face. Many Influencers can hardly determine the value of the service they offer, but if you are familiar with the work of the famous online person, have studied your followers and the niche in which they share information, you will together reach a price that satisfies both sides. At the same time, if an Influencer requires you more than you are willing to offer him, or if the value of his service does not match the provided quality, you simply do not work together.
Over the next few years, demand for influencers will increase. At the same time, the cost of the service will increase. The business will have to spend more and more money on such a type of advertising. I advise you to take advantage of this type of service now because many of the Influencers have not yet realized the true value they can provide and prices are still relatively affordable. But it will change soon. Also examine the Influencers carefully before contacting them to make sure they provide a quality service, have real followers who are interested in their opinion, and at the same time, the audience is appropriate. Otherwise, you risk reaching to many followers who are simply not interested in your product/service.
I'd be glad to share your experience in the comments below or ask me a question. If you want more tips, backstage secrets or follow-up articles (if your topic is interesting), contact me or subscribe to my blog!