Instagram and the Stories
Instagram is frequently referred to as the "positive platform" due to its content and the users' attitude. The app is one of the most popular and loved with a fanatic fan base behind it. In the business environment, however, it is often seen as a challenge. The inability of creating direct links to other websites makes the process of getting traffic to your website/online store a lot harder. Still, the platform continues to grow at such a rapid pace, conquering new heights and creating new rules. Moreover, after Facebook acquired it, we are noticing continuing progress – updating most of its existing features and creating many new ones. An important moment was when Instagram introduced business accounts. They not only give an in-depth insight into valuable statistics and useful information, but also an opportunity to publish targeted, and hence, more successful ads on the platform. That was a long-awaited feature that is of extreme value and importance to everyone who is in the online marketing or e-commerce business. Another feature that received a positive response from the community is Instagram's own Stories. The feature is not only creating new possibilities for the platform users but showed Instagram's intention to establish a complete monopoly over the visual content online. So, what exactly is an Instagram Story? It's a post appearing only for 24 hours (same as SnapChat) and at the top of your news feed. It does not go to your content that you've decided to "permanently" share with your community and is deleted after the 24-hour mark. We can upload a video or a photo and publish it as a story so that it will be visible only 24 hours (unless we decided to erase the post before that). We can upload up to 100 stories per day with every new one having its own time frame.
Which profiles can add links?
It's a standard practice for Instagram to launch its new features only for verified and trusted account at first. This also happened with the reason and topic for today's piece – adding a link to your Instagram Story. Around mid-May 2017, however, the platform allowed it for all active and verified business accounts with more than 10 000 followers. I am now going to show you how to add a link to your Instagram Story and will tell you more of its importance.
*The next few lines are suitable for users that already have a verified (business) account or more than 10 000 followers. However, if you haven't reached this milestone yet, it's perfectly okay. Even if it might not seem that easy to you, there's always a way. In previous pieces of mine, I have shared detailed tips (examples included) on how to quickly and effectively increase one's Instagram following. If you want to learn how exactly to do that, read these two articles:
How to Double Your Instagram Followers Only For a Month
How to Use Instagram Hashtags For Our Business?
So, now, what do you have to do?
1. Create your Instagram Story
You can use the addition app Instagram offers, its camera, or you can upload a perfect photo/video directly from your gallery.
2. Add a link
Click on the icon allowing you to create a chain link at the top of your story. A new window will open where you must enter the complete URL address you'd like your viewers to be forwarded to. If you are using Android, proceed to the green check mark at the top right corner, and if you are a iOS user, just click DONE. Voila! You now have an exciting story with a link added to it.
3. Finish the uploading of your Instagram Story
Proceed to upload your story the usual way. Add filters, description, stickers, emojis, or whatever else your heart desires to it. (But remember, too much is too much.) If you want to emphasize on your link and put the accent and users' attention there, I suggest you add a CTA (call-to-action). When this is activated, a "Learn more" or "Swipe up/Click to see more" will appear. That way you will be able to point your viewers towards the right direction and tell them something interesting expects them if you go to this link.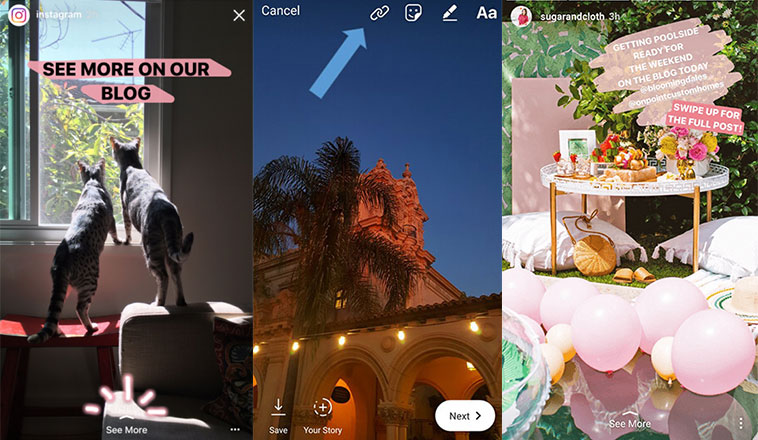 That's it! It wasn't that hard, was it? 🙂 I hope you found this piece useful and it will help you to even more successfully take advantage of the endless possibilities Instagram has to offer. Take this important advice though – do not add a link to every one of your stories. For example, if you publish 6 stories today, don't add a link to all of them (especially if you consider adding 6 that forward to the same address). You will not only make a negative expression on your users, but also risk getting a Shadowban by Instagram.
Have you more questions? Contact me – I would gladly respond to all of them!