The state of emergency caused by the coronavirus pandemic in 2020 has led to many changes in our daily lifestyles. Many people had to start working from their homes. This shift in the workplace requires us to make some improvements at home – small or large, to continue to be productive as before. So in this article, I decided to tell you how my wife and I were preparing our apartment for more efficient living and work from home.
At the end of last year, we had planned to make home renovation, which would take place from February until April. This gave us a great opportunity to rearrange some of the rooms and remove the things we no longer needed. The main purpose of the renovation was to make our home more comfortable and cozier by choosing newer and modern interior solutions. I can definitely say that all the changes we have made already make us feel comfortable and work better from home. If you are curious to know how we reorganized our home, here are some of the main things we did: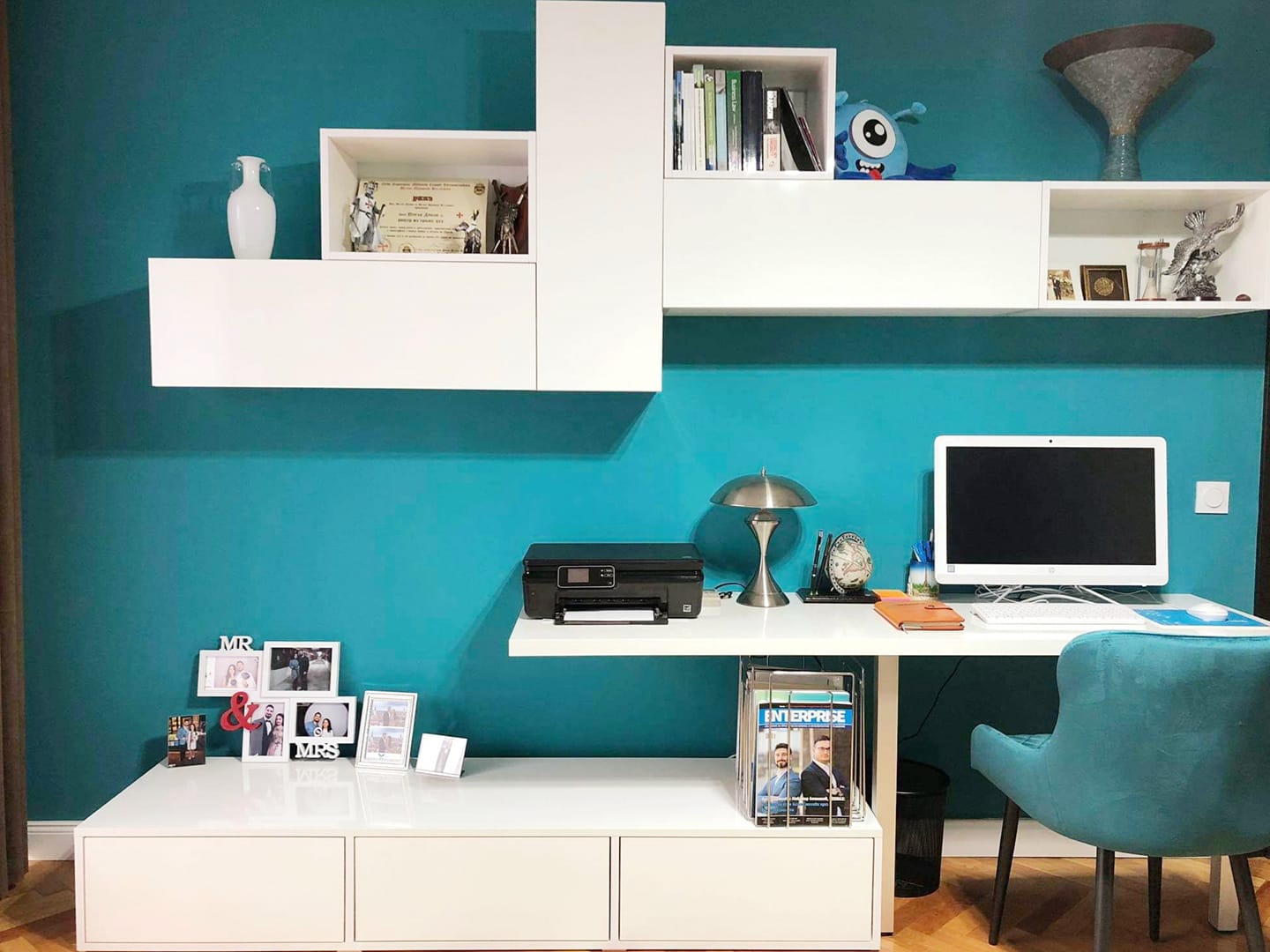 We turned one of the rooms into an office
One of the biggest changes we had planned was to transform one of the rooms into an office. It's not uncommon for me to work from home, so the office is a necessity. We have selected desks and sections that are specially designed for the needs of this room. It was important for me to have enough space to organize my workspace and arrange my computer, printer, and other things.
Besides practicality, of course, we wanted to achieve a stylish look, so we chose custom-made furniture. One of the things that didn't work out was the shelves over the desk. We did not estimate the right dimensions and they cannot fit a large file folder. So we found another use for them. One tip from me is to always be careful and think in perspective when choosing furniture sizes.
In the home office, we added two large wardrobes where I kept my clothes and used the rest of the space to store other things we don't often use. Another practical solution we choose was a comfortable sofa bed. This way, the office can easily become a guest room when needed.
The first weeks of self-isolation are running and I can summarize that the new office is very comfortable and has a positive effect on my productivity.
Internet connections
High-speed Internet is more than necessary for a normal workflow. So we made sure that the more important rooms have an internet connection with LAN cables. in addition, there are two routers in the entire apartment to ensure a good enough wireless range everywhere. To this end, we also purchased a new router with better performance. In this way, we guarantee the convenience of having access to wired and wireless internet from anywhere in our home. I want to thank my friend Stefan Kolev, who advised me how to make this happen.

The computer I work with
I decided to mention a little about the computer I work with at home because it also plays an important role in my productivity. Especially for this purpose, I used the computer of my colleague, who came out in motherhood. It is the HP All-in-One 24-g050nu, which means the entire PC is in the monitor, making it a great choice in terms of design and practicality. So I have a large 24″ screen that is comfortable to use, yet powerful enough to do the job effectively. One of the improvements I made before I took it home was to replace the hard drive with an SSD type, which made it much faster.
I used the opportunity to organize my work files so that it would be easier for me to work and quickly find the things I needed. I also use various cloud file storage solutions like pCloud and Microsoft OneDrive to keep my important files in sync. In case of damage to any of the devices, I can restore my files without any problems. This is one of the important things that really helps my overall productivity because I can work from the couch in the living room using my personal laptop or work on my computer without disrupting my workflow.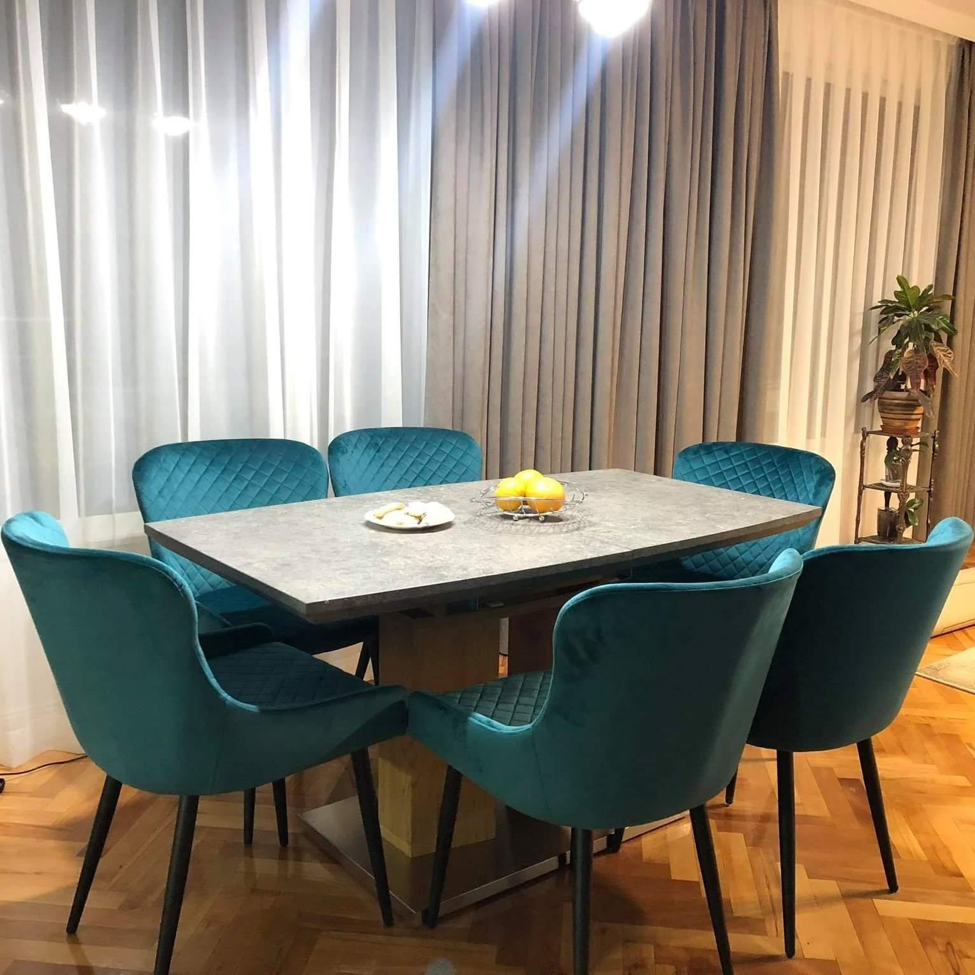 The dining room and living room
We did the reorganization of our dining room and living room. We replaced some of the furniture by adding comfortable chairs and a dining table.
We chose a new more comfortable sofa and free up enough space in the living room so that we have plenty of room even for workouts. Especially in the current situation where going out is minimized, home workouts are a great way to keep fit. We bought sofas and chairs from Mebeli Napredak.
Improvements in the kitchen
We also made changes in the kitchen to make it more comfortable to use. We have installed brand new kitchen furniture made from Nilo. We also added a water filter. It is important for us because it saves us from carrying heavy water tubes. At the same time, it provides us with well-purified water of high quality, compared to standard filter kettles. I try to consume enough water every day, which, as you know, is crucial for the proper functioning of the body, including productivity.
We also decided to put a garbage disposal unit in the sink. It may remind you of the plots from American horror movies, but it's far from scary. It means that we throw away a smaller amount of waste.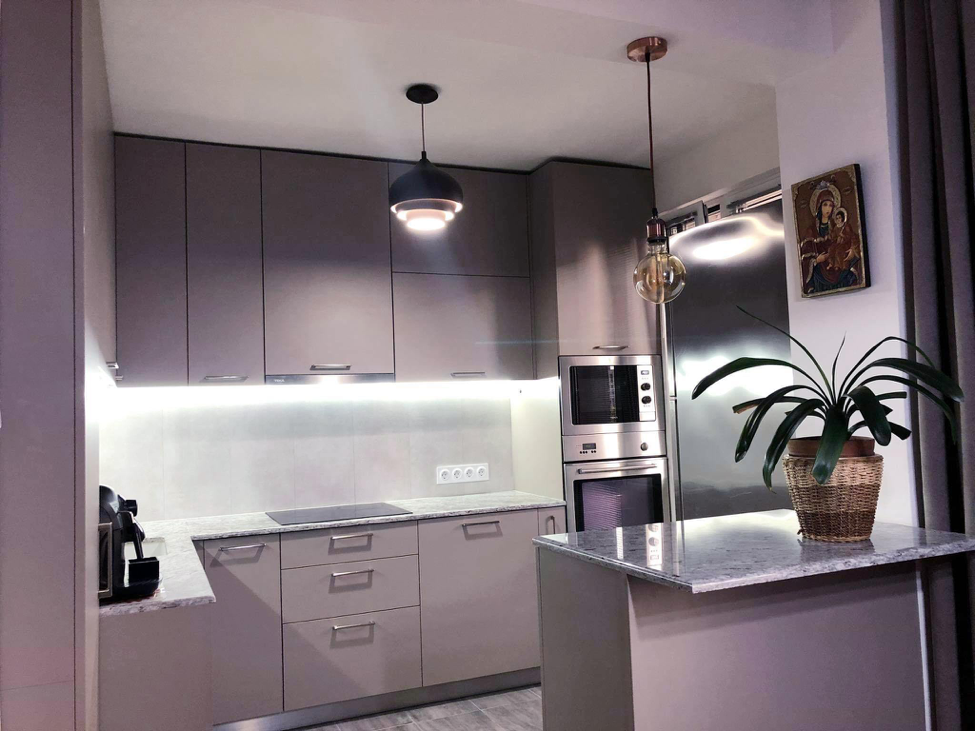 New bed and mattress
Good quality sleep is one of the main factors for being productive and managing our work tasks successfully. It also provides the body with the necessary rest and helps us to feel better. That is why we decided to invest in quality sleep and choose a new bed and mattress for the bedroom.
We chose a bed with a whole structure, not a mattress frame, to make sure that no unpleasant creaking would occur over time. The headboard is lined with a soft fabric, which makes it even more comfortable. The height of the bed is higher than the standard but quickly gets used to.
It was important for us to find a mattress that is really comfortable and meets our needs. So we tested different models until we chose mattress Matterra from TED. I think investing in a quality mattress is definitely worth it, as it is a product that we will use for at least 10 years, and the difference in the quality of sleep is significant. The bed and mattress were ordered from Mattro.net.
The bathroom
We also did a little renovation in the bathroom, installing a new shower system. In addition to the standard handheld shower, it also has an overhead, which makes bathing comfortable as it is not necessary to adjust it to the height of the person using it. In this way, we also save time, which is always beneficial and can be invested in other more important tasks.
These are basically the major changes we have made in our home. Such an investment is not small, but it guarantees us a cozy and pleasant atmosphere for the next 10 – 15 years. This is also the time to thank my father-in-law, Anatolie Frumusaki, who was in charge of the renovation and without his help, this task would have been much more difficult.
All the time, from planning to renovation, our goal was to make our home comfortable for ourselves. In conclusion, I can say that both my wife and I wanted to make things in our apartment so that they not only look good but also be practical.
This helps us be more efficient in our day-to-day tasks and work from home so that we have more valuable minutes to spend together. And by the end of this year, we expect the newest member of our family to join us.